What is trenchless pipe lining?
Pipe lining is a form of trenchless pipe rehabilitation and refers to all methods of rehabilitating pipelines that do not involve exposing or replacing old or damaged pipes. Access points at the beginning and end of a rehabilitation section are sufficient for execution. These can be supply shafts or small excavation pits. The insertion of pipe liners or lining pipes into the existing pipeline takes place via these openings. The infrastructure on the surface above the pipe, such as roads, sidewalks or rail lines, remains unaffected.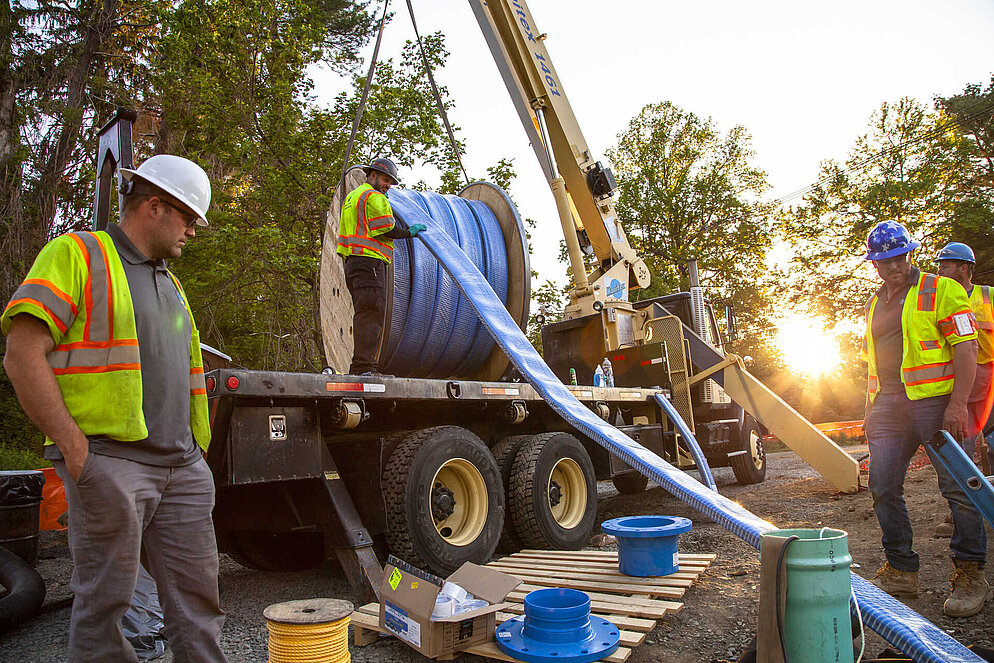 What pipe lining methods are there?
Trenchless rehabilitation methods are divided into renovation, replacement and repair. Here we introduce pipe lining techniques that belong to the category of renovation.
Lining with inserted hoses uses a circular woven reinforced textile with thermoplastic coatings as a pipe liner that is folded into a U-shape and then pulled into the pipe to be rehabilitated with a winch. There it is formed into a round shape with compressed air and finally fastened to the pipe ends with connectors. The liner remains dimensionally stable independently of the pipe and fully absorbs the internal pressure during operation.
A resin-impregnated pipe liner is first inverted and either injected into the pipe with air or water or pulled in with a winch and then erected. It is then cured at ambient temperature or by using hot water, steam or UV light.
The pipe liner, which is coated on its outside with reactive resin, is first introduced into the pipe to be rehabilitated by inversion with air and thereby pressed against the inside of the pipe. This adhesive layer cures at ambient temperature or with artificially supplied heat and in the process forms a firm bond with the old pipe, which is necessary for the dimensional stability of the liner.
In this process, a non-deformable lining pipe is pulled or pushed into the existing pipeline in a prefabricated pipe string. Due to its non-deformability, the lining pipe must have a smaller diameter than the old pipe. This leaves an annular space, which is usually filled. This technique is often referred to as slip lining.
Close-fit lining is related to continous pipe lining. In contrast, the lining pipe is deformable. For the pull-in, the outer diameter of the pipe string is reduced, subsequently formed back again and then lies tightly against the inside of the rehabilitated pipe.
In this method, the pipeline is renovated with individual, short pipes that are inserted with a device and connected to form a continous pipe string.
In pipe segment lining, the pipe is lined with segments. The upper and lower segments are attached to the old pipe by backfilling, bonding or anchoring. A longitudinal seam joins the two parts to form a complete pipe.
This method creates a liner on site from a spirally wound plastic strip. The winding machine is either placed at the beginning of the rehabilitation section and pushes the liner into the old pipe, or it is placed in the pipe itself and pushes the liner towards an access.
For this method, a plastic lining with anchors on the back is first inserted into the old pipe. Cement mortar then fills the free space between the lining and the old pipe, enclosing the anchors and thus ensuring a firm hold in the resulting bend-resistant annular space. This type of lining can be combined with other lining methods, such as discrete pipe lining, spiral wound lining and pipe segment lining.
In this process, a spray head applies a layer of polymer resin to the inside of the pipe, where it cures. The old pipe must not show any excessive damage and must undergo particularly thorough cleaning before rehabilitation.
How does trenchless pipe lining work?
First, the affected pipeline is taken out of service. Access to the pipeline section is gained via excavation pits or existing shaft structures. After an inspection and cleaning of the old pipe, the liner or pipe string is pulled in. Once this is complete, the rehabilitated section of the pipeline route is ready for integration into the network and subsequent recommissioning.

How do trenchless pipe lining and open trench rehabilitation differ?
| Open trench rehabilitation | Trenchless pipe lining |
| --- | --- |
| Disruption to surface infrastructure (roads, sidewalks and railroad tracks) with subsequent restoration | No or minimal disruption to surface infrastructure with no or minimal restoration effort |
| Excavation pits along the entire pipeline route | Excavation pits at the beginning and end of the pipeline route |
| Extensive excavation work | Limited excavation work |
| Heavy use of machinery (excavators, trucks) | Little use of machinery (winch, camera truck) |
| Large storage areas for new pipes | Small storage areas for rolled-up liners or continous pipes |
| High transport effort for rigid pipes | Low transport effort for rolled-up liners or continous pipes |
| High energy consumption of construction machinery | Low energy consumption |
What are the advantages of trenchless pipe lining?
Short construction time: return to service within hours or a few days
Small construction sites: Hardly any disruption to residents and traffic
Low emissions: Little dust, noise and CO2 emissions
Minimal excavation: Limited use of machinery and need to restore surfaces
What is the cost of trenchless pipe lining?
A general statement about the costs of trenchless pipe lining cannot be made. Experts can only give serious assessments after taking stock of the condition of the pipeline, its location, diameter, length, surroundings and other aspects.
Applications for trenchless pipe lining